When college athletes see their playing time dwindling or notice another school where their skills might be better utilized, they can change jerseys by entering the Transfer Portal. The same concept can apply to politics. Lynn Peterson has consistently performed, moving from transportation planner to county commissioner to state transportation director to Metro President. She has made the right play call over the years, demonstrated by her electoral success on the political field. Now, she is playing in a new league, and it may not be the best fit.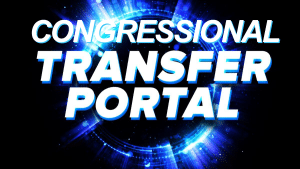 Peterson is in a competitive three-way battle in the May Democratic Primary for the 5th Congressional District against seasoned veterans Janelle Bynum and Jamie McLeod-Skinner. As we noted in an earlier article, Peterson is lagging in fundraising and has seen Bynum snare Gov. Tina Kotek and U.S. Reps. Andrea Salinas and Suzanne Bonamici into her camp.
Peterson is in her element when addressing issues like urban housing and transportation. Unfortunately, she is running in a district that is a blended mix of suburbia and rural. Perhaps it is just not the right fit.
Peterson might find that shopping for a seat in the 3rd Congressional District better matches her skill set and voter appeal. Congressional candidates do not have to live within the district's boundaries to run. This was highlighted last year when Andrea Salinas won the 6th Congressional District despite not residing within the lines of the district map.
Oregon's 3rd Congressional District is heavily weighted toward residents of Portland. Her urban planning chops, issues that may draw many skeptics in Clackamas and Deschutes County, should be well-received in Portland. She has also scored well with voters in Portland during her run as Metro President.
A move to the 3rd District race has other advantages. Win, and you are in for as long as you can put up with the perpetual transcontinental flights. The district is so heavily Democratic that general elections are a mere formality. The 5th District is a November slugfest every two years.
Most importantly, the 3rd District is ripe for the taking. Despite being the most Democratic district in the state, the candidates entering the race to date have been less than awe-inspiring. The most notable is Susheela Jayapal, who recently resigned her seat on the Multnomah County Commission in hopes of being the successor to the retiring Rep. Earl Blumenauer. She is the sister of Washington's U.S. Rep. Pramila Jayapal and hopes that connection will help propel her to D.C. Unfortunately for district voters, her resume on the Commission reads like a Halloween horror movie script.
Steve Duin wrote an excellent piece in the Oregonian last week detailing that abysmal job performance. He summarized:
"But when county governance is a train wreck, how might anyone in the cab or the baggage car convince us they deserve re-election, much less a raise to a Congressional seat?"
Residents of the 3rd District deserve someone who mirrors their values and has a track record of success in advancing critical initiatives. Peterson could vault from back-in-the-pack to pacesetter. It seems like a better fit. If not Lynn Peterson, maybe Rep. Maxine Dexter, who is contemplating a run. Or, how about your barber, dog groomer, or favorite mail carrier? Somebody. Anybody.
One thing is clear: 3rd District voters deserve more options.
https://pwlobby.com/wp-content/uploads/2023/11/Congressional-Transfer-Portal-sq.png
1080
1080
Amanda Spoo
https://pwlobby.com/wp-content/uploads/2020/12/pwlobby-logo.png
Amanda Spoo
2023-11-21 16:09:05
2023-11-21 16:09:54
Signaling S.O.S. in Oregon's 3rd Congressional District