Measure 113 Cocktail Is One Part Ambiguity, One Part Irony
"Without reflection, we go blindly on our way, creating more unintended consequences, and failing to achieve anything useful." – Margaret J. Wheatley
Ballot measures in Oregon are like cocktails. At first glance they can appear refreshing and stimulating. But if you are not careful, you may find yourself disoriented, stumbling, and wondering how you got your kisser stuck to a light pole.

Oregonians will weigh in on one seemingly tasty concoction next month in the form of Measure 113. It appears as straightforward as a whiskey sour. But take that high ball glass, pour in a shot of ambiguity, mix in some political mischief, garnish with a slice of irony and then make sure you have a designated driver for the legislative sessions that lie ahead.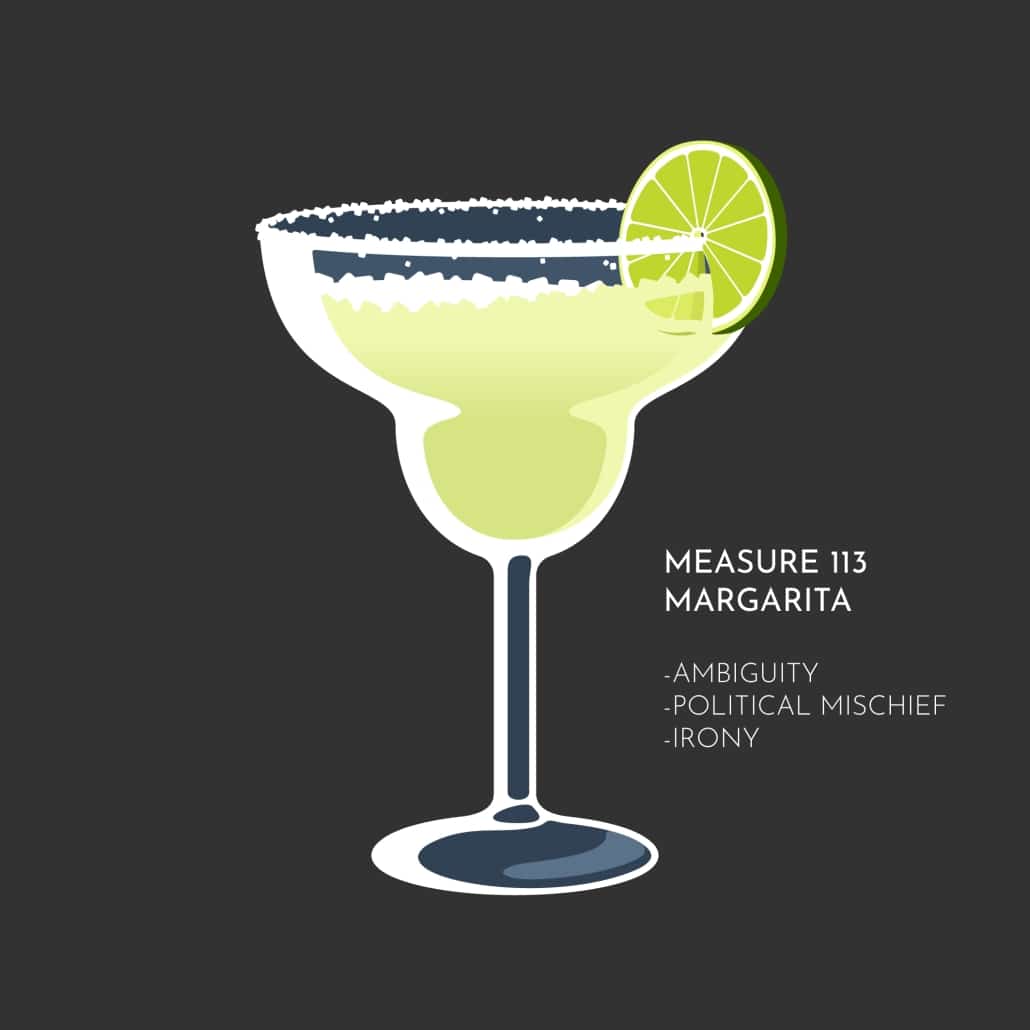 The Measure is simple, enticing, and conforms with common sense. It states that members of the legislature who fail "to attend, without permission or excuse, ten or more legislative floor sessions called to transact business" will be barred from running for re-election when their term expires.
The measure is intended as an answer to Republican legislators who went on strike and walked out of the Legislature on a number of occasions in the past few years because they felt the majority Democrats were over pouring and forcing them to chug legislation they found too strong for their taste. This included a walkout over the redistricting plan a year ago that Republicans felt was skewed to help skewer them in future elections. The measure is designed to prevent such strikes by the minority party that deny quorum to conduct business.
Ironically, Democrats have used the tool themselves in the past including 2001 over, wait for it … a redistricting plan put forward by majority Republicans. At that time both House Democratic Minority Leader Dan Gardner and Senate Minority Leader Kate Brown praised the action saying it was necessary to use "all tools available" to prevent the majority party rolling over the minority. Amazing how head count can change one's perspective on good political strategy.
The measure was placed on the ballot primarily by public employee unions, who spent hundreds of thousands of dollars to collect the requisite signatures. Ironic, isn't it? A measure sponsored by the same public employee unions which hold sacred the right to strike and without fear of losing their jobs.
Measure 113 has no funded opposition and is likely to pass easily. After all, it makes sense that people who agree to perform a job should be expected to show up at work. What could go wrong?
That's where the old nemesis ambiguity comes in. A floor session will often involve taking votes on dozens of bills during that session. If a member steps out to meet constituents or has another need to be off the floor and misses the vote on some inconsequential bill like "Honoring Oregon Librarians" or "Declaring State Hazelnut Day in Oregon," they would be absent for the transaction of business in a floor session.
This happens hundreds of times during a legislative session. Up to this point in Oregon history, House Speakers and Senate Presidents have been generous in usually marking members "excused" if they are not present when the roll call is taken. But in an increasingly partisan world, will future occupants of the Chair use this new tool to chalk up an "absent" designation against opponents who are from competitive districts? It appears to meet the plain language of the new constitutional amendment, even if the member was present for other votes during the session.
And what is the recourse for a member against a political misuse of such power? Not much! They could appeal the decision of the Chair to be marked absent, but that appeal would have to be sustained by a majority vote of the body, which is controlled by the party of the Chair. That's a pretty potent cocktail.
At least that "State Hazelnut Day" bill will likely get unanimous participation in the future. We hope, of course, that Oregon politics will not degrade to such a level. But, then again, have we been surprised by anything else in national politics recently?
Still care to have that drink?
https://pwlobby.com/wp-content/uploads/2023/05/Margarita.jpg
2126
2126
Rick Metsger
https://pwlobby.com/wp-content/uploads/2020/12/pwlobby-logo.png
Rick Metsger
2022-10-20 09:03:58
2023-05-19 22:08:08
Measure 113 Cocktail Is One Part Ambiguity, One Part Irony