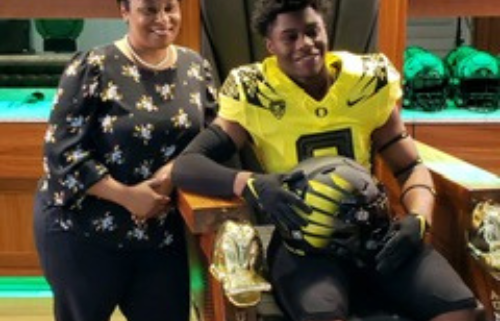 Pigskin and Politics
Mother and Son Bynum Swap Notes on Making Plays Happen
Oregon's Legislature has hit the two-month warning mark, and the fans are getting restless. First downs are critical to keeping the chains moving on the remaining bills moving toward the goal line. But Rep. Janelle Bynum (D-Clackamas) is not panicking. She trusts her training and her preparation. Forty miles to the South in Eugene, her son Ellis has taken a page from her playbook. He is a freshman running back for the University of Oregon football team. This week he is in full pads as the Ducks conduct spring practice.
Ellis Bynum has learned from Mom that patience and preparation are the keys to cracking the lineup on a major college football program. It may seem like a snail's pace trying to advance up the depth chart for someone who was a standout at Portland's Central Catholic High School, but there is virtue in that as well.
Rep. Bynum grew up in the Washington, D.C., area and attended Madeira Prep School. The school motto?
Festina Lente

('Make haste slowly.')
The school mascot? You guessed it—the Snails. Janelle says she was never athletic but did her part in donning the mascot costume. "I wore it frequently," she laughed.
Ellis has bought into the program. Watching, learning, and practice, practice, practice.
"That's pretty much it now," Ellis says. "Breakfast, workout, classes, practice, study film time, and more training."
Rinse and repeat.
He credits his mother for helping him be in the position he is in today.
"She taught me how to focus on my goals," said Ellis.
A lot of that came from observation. Janelle and her husband run multiple restaurants in SE Portland while she also serves as chief cook, bottle washer, counselor, tutor, mentor, and personal Lyft driver for her three children. She tops that off with the full-time work of a state representative in Salem. Focus and organization are key.
"I really noticed a difference in him when he entered his junior year in high school," Janelle said. "He came to a realization that if he wanted to fulfill his dream of being a top football player, he had to put in the work, and he did. Studying and training became top priorities, and his grades really shot up. I am very proud of him."
Both agree that in politics and football, you must be prepared to get smacked around at times. But it can also steel your resolve.
"I know if I am running hard, I am going to get hit hard," Ellis said. "I just have to pop right back up and keep on running."
Rep. Bynum knows all about blocking and tackling when it comes to moving legislation. She also knows that changing the play at the line of scrimmage is important when the defense suddenly provides a different look. It requires a steady hand.
That does not mean she cannot create a few sparks when necessary.
"I don't get emotionally attached to any of my bills," Rep. Bynum said. It can cloud your judgment and lead to unforced errors. Instead, she relies on precision and timing.
After all, she has a degree in electrical engineering.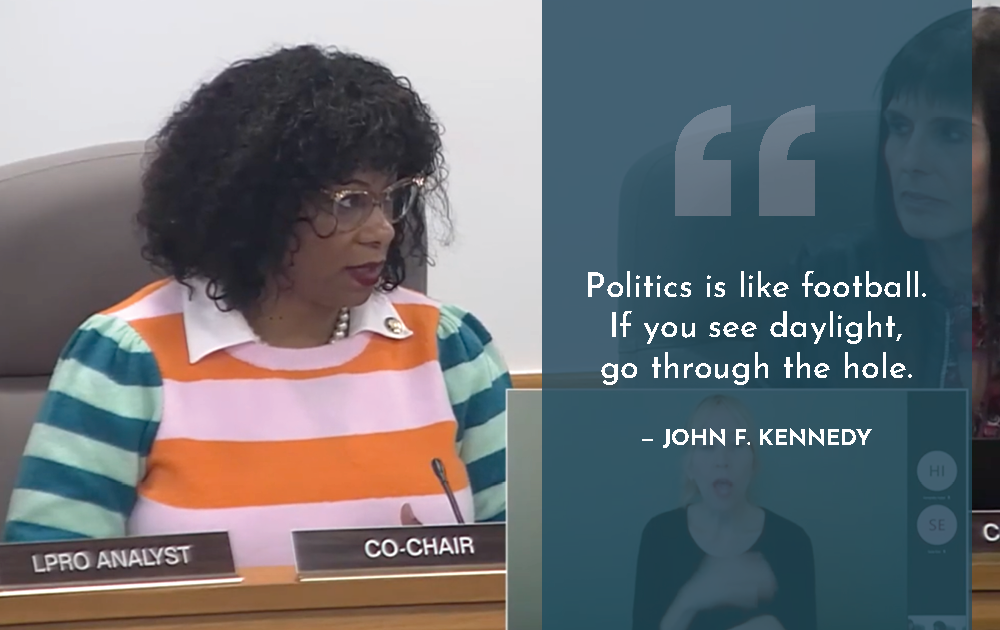 Rep. Bynum did just that this past week, carrying legislation to the floor that would provide incentives for semiconductor companies to invest in Oregon, hoping to take advantage of federal dollars designed to bring more production back to the United States. It is one of this session's major accomplishments, and Bynum was happy to carry the bill and run for daylight.
"We're delivering on that goal and seizing the opportunity."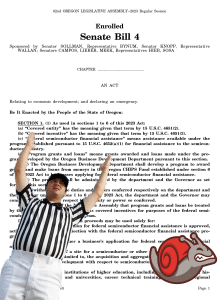 Rep. Bynum also embraces the encouragement her son Ellis provides her during every legislative drive she makes. "He taught me that in reaching my goals, remember it's just 'me vs. me."
Ellis had to love the play call. And now he is ready to do the same.
"I'm just going to keep working hard and preparing for my moment," Ellis said.
Festina Lente. Like mother like son.
https://pwlobby.com/wp-content/uploads/2023/04/Rep.-Janelle-Bynum-and-Ellis-Bynum-thumbnail.png
500
500
Rick Metsger
https://pwlobby.com/wp-content/uploads/2020/12/pwlobby-logo.png
Rick Metsger
2023-04-11 19:01:39
2023-04-11 19:53:43
Pigskin and Politics